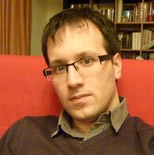 I am a naturally curious and open-minded person and I have always had an interest in everything that the universe has to offer to our senses. As a consequence, I have always had a strong interest in Science. During high school, I developed a particular interest in biology.
           After various voluntary laboratory-training periods during my undergraduate studies at the University of Bordeaux, I started to be involved in scientific research in 2002 in the group of Dr Lionel Minvielle-Sebastia (IBGC, Bordeaux, France) for my master degree. At that time, his group was studying 3'-end processing of eukaryotic RNAs in yeast and this topic matched my growing interest in the mechanisms driving gene expression. During this period, I developed my experimental skills in biochemistry and molecular biology in relation to mRNA metabolism in the eukaryotic model organism S. cerevisiae. Then, in the same research group, I undertook a PhD in cellular biochemistry and molecular biology during which I studied pre-mRNA 3'-end processing in yeast and its regulation by non-canonical poly(A)-binding proteins (ncPAB).
       With the aim to continue working on gene expression but in higher eukaryotes, I moved to the UK in 2008 for a postdoctoral position in the group of Prof. Stuart Wilson (MBB, The University of Sheffield). Since then, I have been working on the molecular mechanisms allowing mRNA transport from the nucleus to the cytoplasm in human cells using a wide range of techniques in molecular biology, cell biology and biochemistry.
Copyright Notice:
Copyright © 2022 Dr Nicolas VIPHAKONE
(1)     Ownership of copyright
I own the copyright in:
(a)    this website; and
(b)    the material on this website (including, without limitation, the text, computer code, artwork, photographs, images, material on this website).
(2)     Copyright licence
I grant to you a worldwide, non-exclusive, royalty-free, revocable licence to:
(a)    view this website and the material on this website on a computer or mobile device via a web browser;
(b)    copy and store this website and the material on this website in your web browser cache memory; and
(c)    print pages from this website for your own personal and non-commercial use.
I do not grant you any other rights in relation to this website or the material on this website. In other words, all other rights are reserved.
You must not adapt, edit, change, transform, publish, republish, distribute, redistribute, broadcast, rebroadcast, or show or play in public this website or the material on this website (in any form or media) without my prior written permission.
(3)     Data mining
The automated and/or systematic collection of data from this website is prohibited.
(4)     Permissions
You may request permission to use the copyright materials on this website by writing to me using my email address indicated above.
(5)     Enforcement of copyright
I take the protection of my copyright very seriously.
If I discover that you have used my copyright materials in contravention of the licence above, I will bring legal proceedings against you, seeking monetary damages and/or an injunction to stop you from using those materials. You could also be ordered to pay legal costs.
If you become aware of any use of my copyright materials that contravenes or may contravene the licence above, please report this by using my email address mentioned above.
(6)     Infringing material
If you become aware of any material on my website that you believe infringes your or any other person's copyright, please report this to me by using my email address above.